FOR MOST CURRENT PHOTOGRAPHY LESSON INFORMATION, PLEASE VISIT THIS PAGE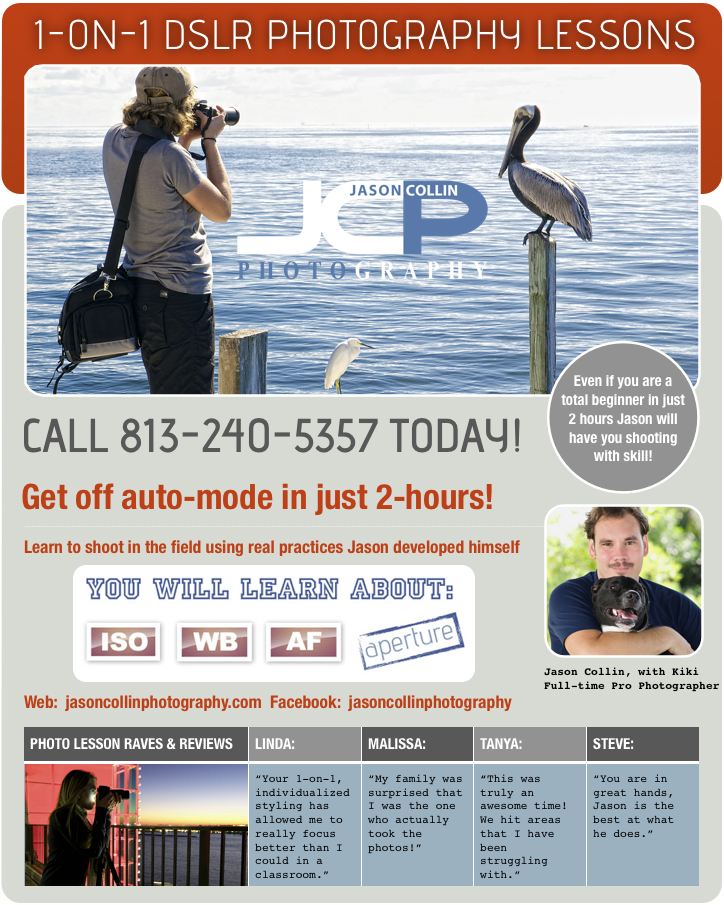 Current 1-on-1 DSLR Photography Lesson Promotional Poster for 2012 - Click to reserve your lesson
ARE YOU USING AUTO-MODE ON YOUR DSLR CAMERA?
1-on-1 photo lessons help you learn quickly

Every lesson is designed for your exact level

Learn to shoot in the field in real conditions

Free social media sized digital portrait made of you by Jason

Lesson locations in St. Petersburg (others may require a fee)

Commercial lessons available for business & starting pros
General Photography Lessons start at:
Jason has taught over 275 one-on-one DSLR lessons since 2009 - see blog
Some of Jason's DSLR Photography Students
Jason has taught lessons to students with these DSLRs and more!
Nikon D700 Nikon D300s Nikon D7000 Nikon D90 Nikon D5100 Nikon D5000 Nikon D3000 Nikon D3100 Nikon D40
Canon 5D Mark II Canon 7D Canon 60D Canon 50D Canon T4i Canon T3i Canon XSi Canon XTi Canon XT
Jason also teaches how to edit digital photos right on your own laptop - reserve now!